MicroTrain Career Services Assistance
As a full-service professional training company, MicroTrain Technologies believes that complimentary career and employment development services should be part of the training package. When you take training courses with MicroTrain, you're armed and ready with new knowledge that will give you an edge in the job market. The Career Service staff at MicroTrain is here to help you reach your goals.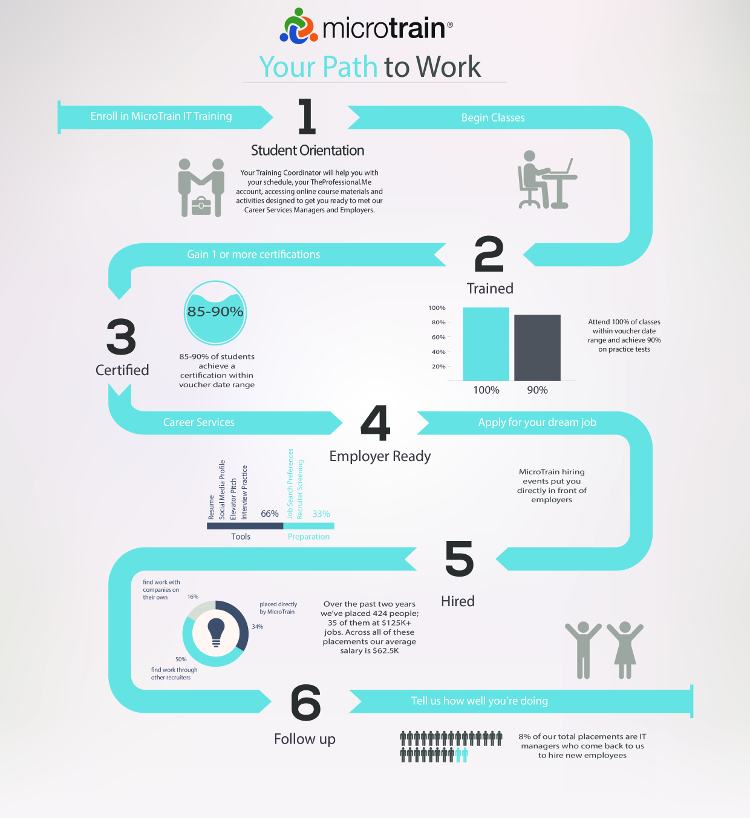 Jean S.
PMP Certification Training, Lombard, 2008
I was laid off for many months and not really getting many callbacks for my resume and no job offers. After I put the letters PMP on it, not only did I see an increase in quantity, but also quality of interviews. I had been spinning my wheels for 5 months, and after the PMP went on, I had 2 job offers in 6 weeks. It really was the "golden ticket"
Karine Bucci
Project Management
Great class, loved the interaction and team-building exercises. Plenty of materials and learning tools supplied. Although it was a full week's class, never boring. Donna [Russell] was awesome and gave many supporting examples for better understanding.
Ron Cwik
PMP Certification Training, 2008
Great training facility. Great instructors. Great experience.
Robert Graf
MCSA
Microtrain presents the course material in an interesting and concise manner. Microtrain gives the student all the resources necessary to pass the certification exams. Both the Chicago and Lombard facilities were excellent, and the staff goes to any length to accommodate any student changes.
D. Easter
PMP Certification Training, November 2008
Thanks Microtrain for conducting a great PMP course that set me on a successful path to obtain my PMP certification. I have passed the test!